Ghosts Call of Duty – Cosplay Maske / Halstuch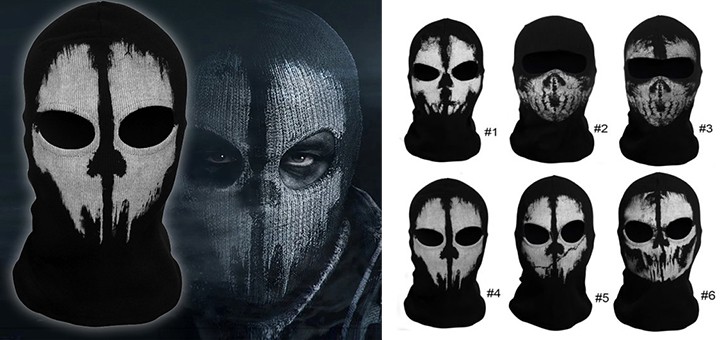 Ghosts Call of Duty – Skimaske oder Tuch
UPDATE 03.12.2014: Wieder aus China oder Deutschland verfügbar!
Dieses Gadget dürfte am interessantesten für Gamer sein, welche Call of Duty kennen. Genau diesen brauche ich aber auch nicht wirklich etwas zu den Ghost-Masken zu erzählen, sie dürften länglich aus dem Spiel bekannt sein 🙂
Alle anderen sind gerne dazu eingeladen, das Game zu spielen oder die Maske / das Tuch einfach so zu nutzen 😉 Zum Beispiel beim Motorrad fahren, Ski fahren, Paintball spielen oder was weiss ich auch immer, dürften die Masken ziemlich für Aufsehen sorgen und sehen meiner Meinung nach einfach verdammt cool aus! 🙂 Wie oben schon angedeutet gibt es verschiedene Varianten, die ich für euch rausgesucht habe.
Das Gadget könnt ihr wie so oft aus China oder Deutschland bestellen.
Totenkopf-Tuch
Am günstigsten kommt ihr mit dieser Variante weg. Hier habt ihr einfach ein Tuch mit Skull-Aufdruck, was ihr entsprechend falten und umziehen könnt.
Aus China bestellen:
Skull Halstuch
@ebay für 1,78€

Aus Deutschland bestellen:
Wer etwas mehr Auswahl haben möchte, der findet diese zum Beispiel hier bei amazon:
Halstuch Totenkopf
@amazon.de für 9,99€
Länge: ca.45 cm.
Breite: ca. 24 cm.
Call of Duty Maske /

Balaklava

/ Sturmhaube
Hier kommen wir zum letzten und auch authentischsten Modell. Die CoD-Maske gibt es in 6 verschiedenen Charakter-Varianten, welche ihr in der Auktion auswählen könnt.
Aus China bestellen:
CoD Skimasken
@ebay ca 7€

Aus Deutschland bestellen:
CoD Sturmmasken
@amazon.de für 13,90€
Gadgets-China Fazit:
Sehen einfach verdammt cool aus und Fans von CoD Modern Warfare oder CoD Ghosts dürften auf jeden Fall auf ihre Kosten kommen! Aber keinen Blödsinn damit anstellen! 🙂
Trailer zu Call of Duty Ghosts
[embedyt]https://www.youtube.com/watch?v=SQEbPn36m1c&width=400$height=250[/embedyt]
youtube.com by "CALLOFDUTY"
Weitere Gadgets auf Amazon (Werbung)
Bewertung des China Gadgets
Reviewer
Datum
vorgestelltes Gadget
Bewertung